Competition 比賽
2008 MAA Composition Competition
2008 Quartet Composition Competition Finalists' Contest Press release
2008 Quartet Composition Competition Entry deadline - Fri 5th September
2008 Quartet Composition Competition Finalist Contest - Sat 25th October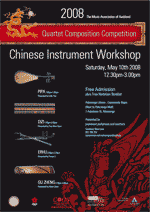 2008 Chinese Instrument Workshops_10May (274 Kb)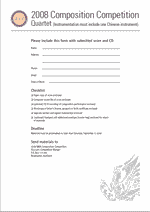 2008 Competition Entry deadline_05Sep (219 Kb)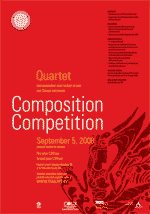 2008 Competition Poster Finalist Contest 25Oct (1,36 Kb)
Reference: hyperlinks on entry form. Please check them out!!!
Adobe Acrobat 6.0 is required
2007 MAA Composition Competition
2006 MAA Composition Competition
MAA Composition Competition 5 Finalists
First equal prize: Harry Peirse
First equal prize: Rebekah Mapson
Achievement prize:Tian Yi Lu
Achievement prize: Hayley Reid
Achievement prize: Jennie Verdonk

The Music Association Of Auckland Quartet Composition Competition
Composer's Biography

Rebekah Mapson is 17 years old and is a Year 13 student at Westlake Girls' High School. She has been studying music for five years but only started composing in 2004. Rebekah has been involved in choral singing from the age of nine and is currently in the award winning choir, Key Cygnetures. It is from an exposure to a variety of different musical styles that Rebekah draws inspiration to compose. Rebekah is hoping to pursue a tertiary education in music at Otago University next year.

Harry Peirse is a year 12 student at Western Springs College and also studies classical piano, jazz piano and musical composition. He recently completed Grade 8 classical piano and is now working towards his performance certificate. Upon completion of his schooling, he plans to study towards a Bachelor of Music at Auckland University. His musical tastes favour the late romantics, particularly Rachmaninoff and Debussy, and he also enjoys the music of various twentieth century classical composers.
Hi everyone
On Saturday the MAA (Music Association of Auckland) composition competition held its finalists concert. Five quartets were presented, each of which included a Chinese instrument amongst their instrumentation. In a unanimous decision the four judges decided to award a joint first place. The two winning works were "Ritual Dance" by Rebekah Mapson of Westlake Girls High School and "Caprice" by Harry Pierse of Western Springs College. A good-sized audience of friends and supporters attended the performances and were treated to some demonstrations of various Chinese instruments, and then afternoon tea following the concert.
It is intended to run a similar competition next year, possibly with an emphasis on Indian musical instruments. It would be great next time to have a larger range of entries - it can, after all, be easily built into composition tasks at senior level in schools. The upper age limit was only 20, so school students were not (potentially) competing against much more advanced composers. It's also a great way to introduce students to the music of other cultures. And it gives composing a 'real' deadline and a reason for writing something.
Congratulations to Elsa Lam, her team and the various sponsors, for organising a great multi-cultural event, and best wishes for the future!
DAVID HAMILTON Composer, choral conductor, music educator Auckland, NEW ZEALAND
web-site: www.dbhmusic.co.nz
MAA acknowledges Maestro Uwe Grodd to be our Honorary Patron from May 2011 www.uwe-grodd.com

MAA acknowledges the major funding from COGS [Community Organisation Grant Scheme] Auckland and Manukau City, special thanks to MAA supporters and members.